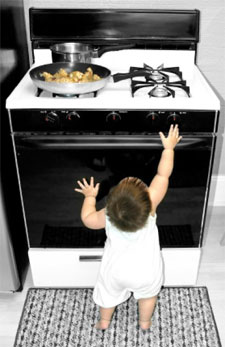 Q: So I just reviewed your article (and your time-lapse photos) on linen. While I agree that there is a potential for a train wreck, I also feel that if worn with care, the white linen suit can produce stunning results. I have my wedding ceremony in August in Puerto Rico. I bought a Hugo Boss 3-button white linen suit for the occasion. I plan on wearing it only for the ceremony, pictures and cocktail hour (changing for the dancing portion). I have two questions: 1) Is it true that white underwear will really stand out and do I have to find the elusive nude color brief? And 2) I'm wearing dark brown, leather sandals and belt, can you recommend an appropriate color and fabric for my shirt?
--Gabe

A: Gabe, remember when you were a little boy and your mom told you not to touch the hot stove because you'd get burned? And then you touched the stove and got burned? Remember the pain you felt, and all the tears and bandages and shit, and how you wish you listened to your mom?

Does this ring a bell at all?

The beach and the August Puerto Rican dew point will help, but we're not just talking a hot stovetop here. We're talking open flame, like a Bunsen burner. If you still insist on playing with fire: 1) Yes, white will show through. Nude isn't necessary. Grey works. Anything closer to your skin tone. 2) Cotton with a touch of elastane. For color, go with a neutral, light blue at the outside.