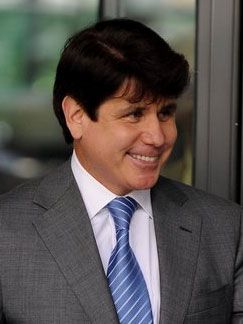 Federal prosecutors were only able to convict former Illinois governer and First Toolbag Rod Blagojevich of a single count of lying to the FBI, but more significantly, they did unearth receipts showing a 7-year, $400,000 clothing budget for he and his wife at stores like Saks Fifth Avenue and Neiman Marcus. (If this is ringing a bell somewhere, it definitely should.)

Blago also spent heavily at custom suitmaker Tom James Company and had custom dress shirts made by Geneva Custom Shirts. Yet, in spite of all the expense and bespoke tailoring, he failed to grasp even the most basic style truth: don't combine spread collars with four-in-hand knots.

SEE ALSO: Magnificent Bastard's Custom Shirt Reviews. (Unfortunately Geneva Custom Shirts was not one of the participants.