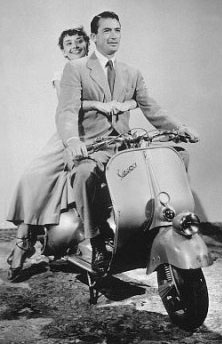 Regarding scooters, I can't believe you missed this fine example of how to pull off the MB scooter look: riding double with Audrey Hepburn on the the back, Roman Holiday style.
--Ray

A: Our oversight. Anytime Audrey Hepburn is riding with you on a scooter, you are automatically pulling off the scooter look.

Side note: If you can distract yourself from Gregory Peck's tie knot, check out Ms. Hepburn in an early version of gladiator sandals.