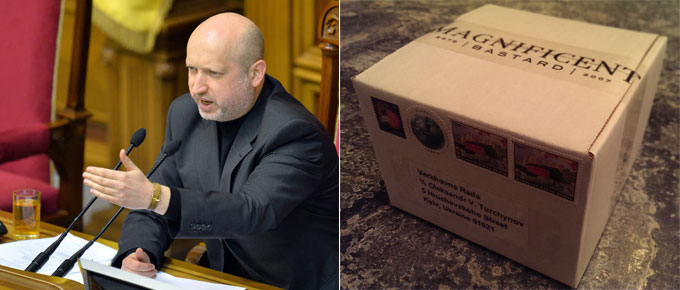 We freely admit our knowledge of global affairs is limited. But Ukraine has us especially baffled. Based on this photo of Acting President Oleksandr Turchynov, Ukraine's Parliament appears to have a two-drink minimum. But no dress code?
As longtime champions of business casual, we love that tall tumbler of what we're interpreting as bourbon on the new Acting President's desk. But isn't there some provision in the Geneva Convention that says that when you're the leader of an entire country, you have to wear a tie to work?
Obviously, Mr Turchynov has a lot of things on his plate right now, and shopping for ties is not one of them. Which is why we're reaching out, in a gesture of global goodwill, and sending him a complimentary wool tie.
As the photos above document, a Leotardo is now on its way to Kiev.