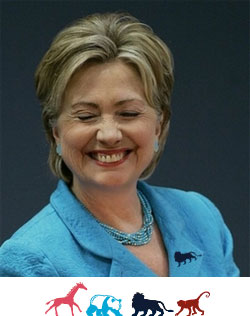 At last Saturday's Yearly Kos Convention, Hillary Clinton wore a turquoise jacket, turqouise necklace, and turquoise earrings.

This is a clear cry for help. An outfit that says, "I have no style. I couldn't possibly pull together something that's not monochromatic. I like turquoise. For chrissakes can someone please help me?"

This poor woman cannot become president simply because of the style disaster she'd unleash.