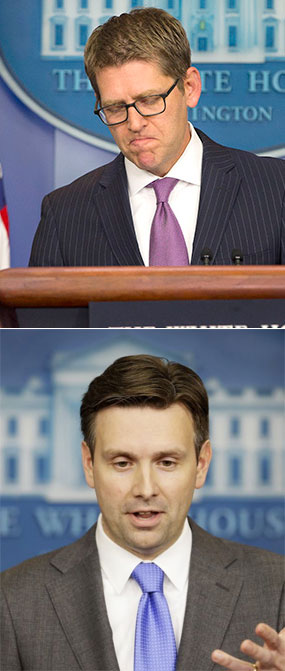 With the exception of his odd — and thankfully short — facial hair experiment earlier this year, White House press secretary Jay Carney has been a model of McDonald's-like consistency for nearly 3.5 years and 1,000 or so press conferences: the same Type A bedhead, the same equivocation and obfuscation, and the same structurally entrenched shirt and tie knot inequality.
If you insist on artificially boosting your jowl optics by wearing a spread collar, at least have the sense to tie a Windsor knot.
While Carney replacement Josh Earnest has a look that calmly proclaims "I'm the number 2 producer in the Topeka field office.," at least he understands the geometric benefits of point collars and proper knot pairings.
Earlier:
The only guys who should wear spread collars are Adrien Brody and the guy from Edvard Munch's The Scream