If our math is right, we've spent just $911 of someone else's money (from a $2K budget), creating 64 wardrobe combinations for our client (Dave) to wear before a repeat. Considering days off for Thanksgiving and XMAS/NY, that about covers an entire F/W workday season!
This economization was intentional, so we can go apeshit on shoes. They're the most important element of style, and even in our post-dress shoe, sneakerized world the cliche holds: shoes make the man. Additionally, according to research done by Allen Edmunds, they also make it easier to get a date.
The Keepers
1. Pantofola d'Oro Suede Sneakers. $213.
PdO has been making shoes in central Italy since 1886 and made understated sneakers for years before Common Projects and their copycats came on the scene. This minimal grey suede version works very well with the uniform.
2. Maison Margiela "Replica" Suede and Leather Sneakers. $470.
The most signature item to date, these MMs are nearly 25% of the client's overall budget, which is still a value given their sartorial punch. They also may get Dave laid.
See how both pair look with the rest of the uniform in the updated Dresserizer. Spoiler alert: Awesome!
We Threw These Back. Er, Sort Of.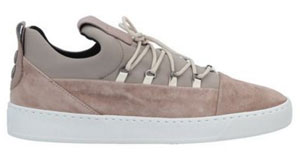 You may recall the client's creative brief called for an "urban landed gentry" look. That sort of went out the window when he settled on Levi's 505s, but we gave it a nod with the purchase of these made-in-the-UK Alexander Smith sneakers. They turned out to be a wee bit too adventurous for our client, so we kept them. Now we're investing more of our own budget into Alexander Smith.
Budget Update
As noted above, $911 has been spent on clothes, and now $683 on shoes, bringing the total to $1594, including all shipping and returns. That leaves us with $406 for accessories, which are the last part of the build, and is coming up next.
Asset Allocation
This is where we're at, and likely what we recommend for you, too.