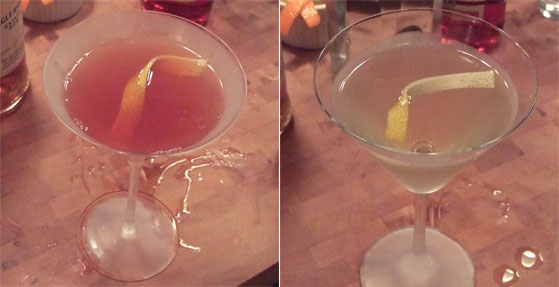 alex smith

Ingredients:
2 oz. Cruzan Single Barrel Rum (or other good quality gold rum)
.25 oz. Cane Syrup
.25 oz. Lemon Juice
.25 oz. Campari

Instructions:
Combine all ingredients, shake with ice & strain into cocktail coupe. Garnish with a wide lemon zest.

John Dietl

1.5 oz. London Dry Gin
0.5 oz. Bonded Apple Brandy
1 tsp. simple syrup (1-to-1 sugar to water)
4 drops Orange Bitters
1 lemon twist

Instructions:
1. Pour the Gin, the Apple Brandy, the simple syrup, and the bitters into a mixing vessel.
2. Stir with ice.
3. Strain into a cocktail glass.
4. Garnish with a lemon twist.
Winner:
John Dietl
Score:
5-0
Game Summary:
Smith's drink looked good on paper. It even smelled good. But on the tongue it was flat and one note. Dietl's drink was light and refreshing, like water chestnuts in a stir fry. A very strong cocktail.
See the full tournament field