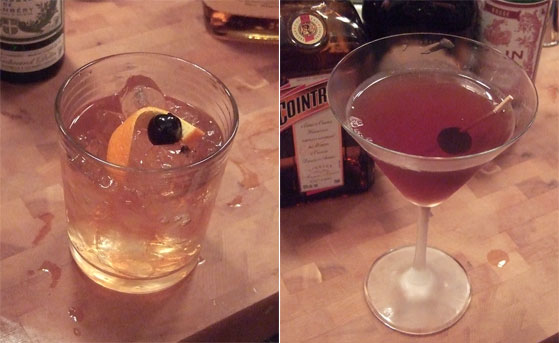 Bob Schmitt

Ingredients:
The key here is the quality/quantity of bourbon against the splash size of Roses and Cointreau. The bitters and cherry syrup are critical and cannot be left out. To dry it out, reduce quantity of vermouth.

In an Old Fashioned glass:

-2oz Bourbon, preferably Woodford's Reserve or Jim Beam Black.
-2 tbsp Dry Vermouth
-Splash Roses Lime Juice
-Splash Cointreau
-4 dashes, Angostura bitters
-1/4 tsp maraschino cherry syrup

Garnish with
-Orange peel, 3 inch curl
-Maraschino cherry

Matt Konrad

Ingredients:
2 oz Rhum Barbancourt
1/2 oz Gosling's Black Seal Rum
1/2 oz Cointreau
1/2 oz Cherry Heering
1/2 oz sweet vermouth
2 dashes Angostura Orange Bitters

Measure all ingredients into glass half of Boston shaker. Shake with ice. Strain into chilled coupe or martini glass. Garnish with a maraschino cherry and a redhead who can tie the stem with her tongue.
Winner:
Matt Konrad
Score:
5-0
Game Summary:
Schmitt's was the Gilbert Gottfried of the night: a little whiney. All the ingredients in Konrad's drink are working together, especially how the Cointreau lightens up the cherry influence. One of three 5-0 scores of the 2nd round.
See the full tournament field
Contest sponsored by
KegWorks