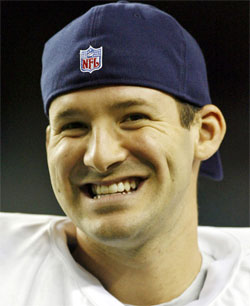 Really no shock here:
Her recent events drew scruffy high-schoolers in backward baseball caps, tank-topped bikers in bandanas and long-bearded veterans in berets. They crashed the rope line for photos and autographs. "Marry me, Sarah," a man implored in Weirs Beach, N.H., while Ms. Palin held up a tow-headed toddler and patted his little chest. She ignored, or didn't hear, the proposal, but signed the dude's ratty baseball cap.
Shouldn't Tony Romo be studying game film?