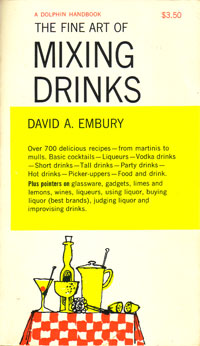 And now it's time for another excerpt from David A. Embury's canonic 1948 cocktail book "The Fine Art of Mixing Drinks." Buying the right shaker can make all the difference between a good drink and a great one. Keep that in mind as you stir (or shake) up a recipe for entry into the Magnificent Bastard Cocktail Contest. Deadline for entry is just 17 days away.

Good cocktail shakers can be obtained in all manner of sizes, shapes, and materials. Since metal is a better conductor of heat than glass and, therefore, the ice in a metal shaker will melt and dilute the drinks quicker than in a glass shaker, I recommend glass shakers, but with tight-fitting metal tops. The opening of the glass shaker should be large enough to take large ice cubes with ease; the opening of the metal top from which the drink is poured should be small and the construction should should be such that there will be no leakage between the shaker and the top and no drip from the top after pouring. Be sure the top is tight enough not to fly off either in shaking or in pouring, but as an extra precaution always hold one hand on the shaker and one on the top during both operations.

Chill the shaker well before using, either by leaving it in the refrigerator for a half-hour or by partially filling it with cracked ice. This ice should be discarded before mixing the cocktail. The heavier the glass in your shaker, the longer it will take to chill it, but the longer the drinks in it will stay cold and undiluted.
Winner to receive a $500 shopping spree at KegWorks. (They've put together a "help page" as well.) Entry deadline is fast approaching. When you're ready, submit your entry here.