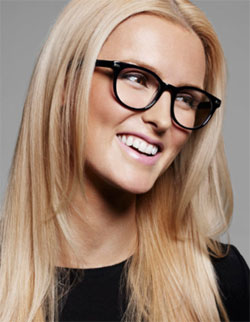 "Preston, meet Huxley! Sinclair, meet Wiloughby! Griffin, meet Digby!" No, we're not imagining the whitest dinner party in history. We're imagining the 14 new styles of Warby Parker frames meeting the 19 original ones. Which is an event that's far more likely to happen at, say, Kanye West's house than the whitest dinner party in history. Yes, they're that WASPy.

But if the look is classic midcentury, the sales policy is contemporary Internet retailing at its finest. Pick up to five frames you like and Warby Parker will send them to you free of charge to try on in the comfort of your own home. If you're ready to commit, you can have them made into full-fledged glasses for $95. If you're not, return them to Warby Parker at no charge. What an amazing time to be alive and astigmatic!

Earlier: Non-lethal but surprisingly stylish: Criss nylon prison glasses.