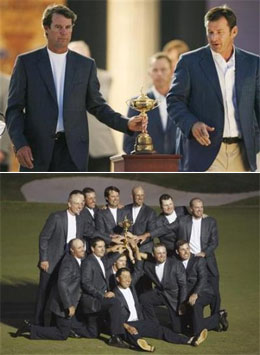 The winner -- total toolbag Paul Azinger -- is wearing a mock turtleneck. The loser -- MB-ish Nick Faldo -- in an artfully disheveled collared shirt.

It's one thing for Mr. Azinger to be unstylish -- that's par for the course with him -- but does he need to dress up the entire team in that awful outfit?

In spite of the lopsided victory, that photo will not stand the test of time. In 20 years people won't be looking at the winning 2008 Ryder Cup team and say, "Geez, those guys really had style back then." Exactly the opposite.