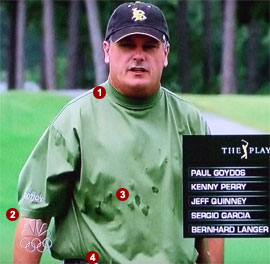 Just look at the poor fella's outfit:

1. Mock turtleneck collar. The Tiger Woods influence; not just ugly but inappropriate for the golf course, or in public.

2. Shirt sleeve ambiguity. Are these long short sleeves or short long sleeves?

3. Unfortunate color choice. If you have sweat gland issues (it was just 83 degrees yesterday in Ponte Vedra Beach, FL) stick to white; nothing even remotely dark allowed.

4. Double-pleated pants. Not pictured.