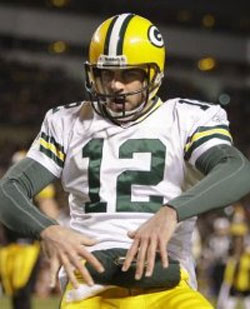 Q: Thanks for your style advice for attending sporting events. I will be attending an epic playoff game in Chicago this weekend. Any tips for a MB in training when attending (outdoor) winter sporting events? I don't want to do the snowmobile suit or work coverall look and some of our midwest neighbors are wont to do. Or, is it a conflict of interest to even provide advice to a Bears fan?
--Ryan

A: Your squad is 3.5 point dogs at home, against the #6 seed ... have you thought about wearing a Packers' jersey?

If that's too extreme, we recommend a fairly conservative approach. With good seats running between $1000 to $2000 on StubHub, you're probably shelling out a lot just to be there. With that in mind, do you really want to blow even more cash on a jacket there's a strong chance you'll only associate with depressing memories of Aaron Rodgers doing the Championship Belt in your house? Take Jennifer Aniston's lead and go with a Spiewak snorkel parka. It's as warm as it is cheap.