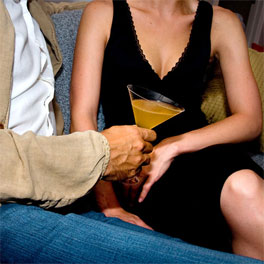 Up here in northern Wisconsin we're already about at peak color (Negroni), so the Bronx recipe is a tad late, according to the official MB Cocktail Color Changing Guide. But for the majority of the country it's arriving in the nick on time.

For each cocktail in the series we're mixing two versions: one for the Poor Bastard and the other for the Magnificent Bastard.

Mix the Poor Bastard version and risk hanging out in the corner talking to some middle manager telling you about his cholesterol level.

Mix the Magnificent Bastard version and you're charming the pants off some babe with a great pair of collarbones.







Poor Bastard - Bronx

2 part gin (Seagram's Extra Dry)

1 part sweet vermouth

1 part dry vermouth

1 part orange juice

Give this all a good shake and then serve in a low-stemmed martini glass, preferably not plastic, you rube.




MB - Bronx (aka "Riverdale")

2 parts gin (Plymouth or Boodles)

1 part Cointreau

1 part sweet vermouth

1 part dry vermouth

1 dash orange bitters*

This should be lightly shaken, or aggressively stirred for those sporting a stick, and then served up. No garnish is needed, especially if you're prone to spilling while staring a good pair of collarbones.

*MBartender reviews of orange bitters is in the works