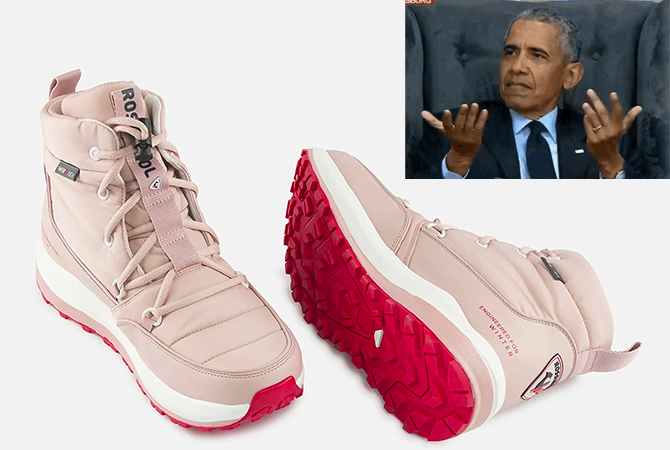 Our most gushing post of 2021 was about Rossignol's Après Ski Booties, in our view a near-perfect sneakerized boot to stylishly get around during Minneapolis's 5 months of winter.
Rossignol and its retailers ran out of these fast but promised us "...we will have them again next season with some new colorways," and when they didn't immediately drop last month with the rest of their winter gear, a customer service rep asked us for patience and added they are "super stoked on them."
They recently appeared on rossignol.com, and to say we are disappointed is an understatement:
Colors. Pink for shirts? Yes! Not for winter boots, unless you only plan on wearing them sipping whiskey on the patio at Warm Springs Lodge.
No black/red/white. In a month or two, when the pink and green ones are marked down 40%, Rossignol would be sold out of their bread-and-butter model from last year.
Sizes. These run incredibly small, and only the legible "Hero" model comes in anything larger than an 11.5.
But the biggest problem is the boots being renamed Podium Shoes, from Après Ski Booties.
The former implies training, competing, standing, and listening to three awful national anthems, while the latter suggests sitting in front of a fire with a drink in hand and a firmly-established head buzz, sharing stories and laughs. (Note: the latter is better.)
We're hoping for a reboot in 2023. Meanwhile, this collection is best visually summed up by a gif of an iconic clip from our childhoods.